Where Beautiful Smiles Begin!

Comprehensive dental care for the whole family.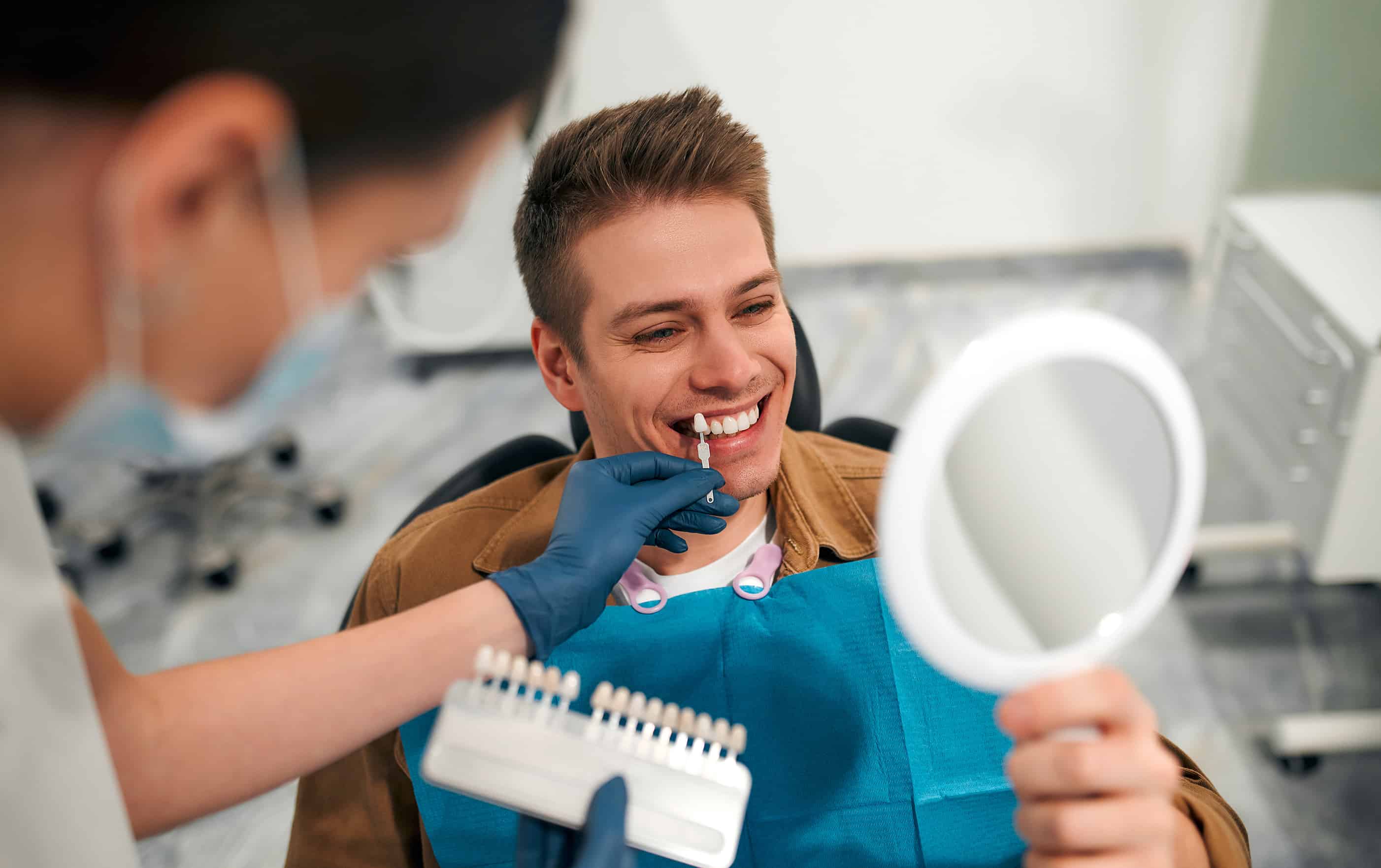 Porcelain Veneers in North Ridgeville, OH
Whether you want to change the shape of your teeth, are unhappy with the color, or would like to improve the overall appearance of your smile, Center Ridge Dental Professionals in North Ridgeville, Ohio, is the dental office for you. We offer many cosmetic dentistry options, such as teeth whitening, composite bonding, porcelain veneers, and an entire smile makeover. Maintaining a healthy and happy smile is essential, and our professional team can help you achieve your goals.
What are Porcelain Veneers?
The shape, size, and look of porcelain veneers are custom-made to fit against the surface of your tooth or teeth. This thin layer of porcelain corrects the shape and size of your teeth while improving their color. Also known as dental veneers, these thin layers are durable, stain-resistant, and can be matched to the natural color of your other teeth. You can add veneers to multiple teeth to transform the appearance of your smile. 
What is the Difference Between Porcelain Veneers and Composite Veneers?
The difference between porcelain veneers and composite veneers is mainly the material. Composite veneers are made of resin and cheaper than porcelain veneers. Both types of veneers connect to the outer part of the tooth surface. Although porcelain veneers are known for being more durable, both can be good options to improve the look and functionality of your smile. 
When Do You Know You Need Veneers?
There are several instances when you might need veneers; however, it is always best to consult a dental hygienist before making that decision.
You have broken, chipped, or cracked teeth. 

You have discolored or stained teeth.

You have gaps between your teeth.

You have misaligned or uneven teeth.
What are the Different Types of Veneers?
At Center Ridge Dental Professionals, we offer porcelain veneers, but the following are different types of veneers you can explore as other cosmetic dentistry options:
Porcelain:

Porcelain veneers are one of the most common veneer options. They are a thin layer of porcelain placed over the outer part of your tooth or teeth, changing the shape, color, or size.
Ceramic:

Made out of certain materials like zirconia, ceramic veneers are more of a custom-fit option and fastened to your tooth's front surface.
Composite:

Composite veneers

are made from the same material dentists use for teeth bonding and can easily help with teeth that are discolored or have other small flaws.
Zirconium:

Zirconium veneers are among the toughest materials and are ideal for fixing dental complications such as extensive fracture, chipping, or decay.
How do Veneers Help the Functionality of Your Smile?
As a cosmetic service, dental veneers enhance your smile, improve cracked or chipped teeth, and brighten their appearance. If you maintain regular oral hygiene and certain eating habits, porcelain veneers can last between 10-15 years. Some of the benefits of veneers include the following: 
Improve teeth discoloration.

They have a natural look. 

Dental veneers can cover cracks and chips.

They are low maintenance.
Schedule Your Next Venner Appointment at Center Ridge Dental Professionals
At Center Ridge Dental Professionals, we care about our patients and want the best for them. Our highly trained team will find the best options for you and your dental care. Schedule an appointment with us today, so we can take the next steps in your dental treatment to achieve the smile you have always wanted!